THE PERFECT PORTION:
Give your sweetheart a cupcake for valentine's day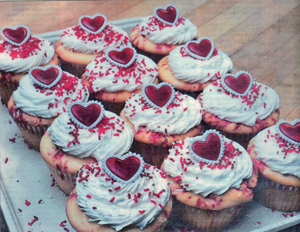 For Valentine's Day, perfectly-portioned cupcakes make an intimate dessert for two. When decorated in romantic themes, the quickly baked petite cakes can sweeten the holiday with bite-size tastes of strawberry or chocolate.
"Cupcakes should be fun," said Chris Paseka, owner of Sugarush, whose Red Bank store offers a "Love Chest" cupcake duo for Valentine's Day.
Paseka's favorite Valentine's Day flavor cupcake is a red velvet batter with cream cheese icing, topped with red sprinkles or a single Hershey's Kiss.
"Cupcakes are accessible. They're financially accessible," he said of his cupcakes, which are $2.50 each. "One little bite, they satisfy a sweet tooth quickly. So you should have fun with it."
Cupcakes are gaining in popularity, said Joyce Erickson of Cameo Cakes in Brielle.
"It's kind of like a portioned dessert," she said. "A lot of people are going toward that rather than buying a cake.
"It's an old-fashioned kind of dessert and I'm glad to see it's back," she added.
Erickson -- who decorates her cupcakes with buttercream roses, chocolate shavings or pink sprinkles -- said taste is the most important component of cupcakes.
"You can make it pretty, but if it doesn't taste good people won't be back," she said.
To prepare cupcakes, carefully consider flavors, she said.
"Raspberry filling goes nicer with a chocolate cake than with a white cake," she said. "Cherry goes nicer usually with yellow cake."
Erickson also advices portioning cupcake batter using an ice-cream scoop to make a uniform batch.
To decorate, Paseka recommends using a simple freezer bag. Place icing in the bag, then cut off a quarter of an inch of one corner. Press the icing through the hole and swirl over the top of the cupcake. The effect looks more polished than using a knife to shape the icing, he said.
Color is also important.
"When you think Valentine's Day, what I usually think is red, pink, white," said Denise Field, owner of the internet business "Craving for Cupcakes" based in Lacey.
For the holiday, her mind conjures thoughts of pink strawberry cupcakes covered in chocolate frosting, or chocolate cupcakes with pink strawberry frosting, said Field, who plans to open a cupcake shop on Route 9 in Lacey by the middle of March.
To bake the perfect cupcake, sift all the dry ingredients before mixing the batter, Field said. "It'll make for a fluffier and lighter cupcake," she said.
In a 350-degree oven, she bakes her cupcakes for 16 to 17 minutes to reach perfection. She knows the batch is done when she taps the mounded top of a cupcake and it springs back.
If the top is too hard, the cupcake will be dry. If it is wet, she continues to bake it, checking it minute by minute.
Field's trick to making moist cupcakes is to cool them in the freezer.
"As soon as it comes out of the oven, put it right away in a freezer," which seals in the moisture, she said.
To store cupcakes, she places the cakes in Tupperware, wraps them in cellophane and freezes them, she said.
"Cupcakes can be frozen, unfrosted, for three months," she said.
When ready to serve, Field makes her own fruit-flavored homemade filling by boiling fresh fruit with sugar until it reaches a jam-like consistency, she said.
Her advice to cooks looking for an easier alternative is to buy pie filling, she said.
"That's very handy and easy, and you don't have to go through the mess of making your own filling," Field said. "There's tons of assorted flavors. Like for Valentine's Day, do a cherry filling."
Then, use a food processor to smooth out any chunks, she said.
To make the cavity that holds the filling, she uses a cake decorating tip, twists it into the cupcake's top and removes a central chunk. Then, she inserts the filling and coats with icing.
Though cupcakes are traditionally associated with children's parties, Field recommends infusing Valentine's Day cupcakes with some adult flavor. Chambord can be added to icing, infusing the liquor's raspberry taste into the cupcake.
Field finishes the cakes by topping the icing with conversation hearts, sprinkles or molded chocolate hearts, she said.
Whether making cupcakes for children or a Valentine's Day sweetheart, "cupcakes are love," she said.
Clamoring for cupcakes?
Cameo Cakes, 406 Union Ave, Brielle; www.cameocakes.biz or 732-528-1558.
Craving for Cupcakes, Lacey; www.cravingforcupcakes.com or 609-242-4084.
Sugarush, 37 E. Front St., Red Bank; www.experiencesugarush.com or 732-414-9044.
Amanda Oglesby: 732-643-4289 or aoglesby@app.com